Tarlogic donates laptops to Teo City Council, which are already training the technologists of the future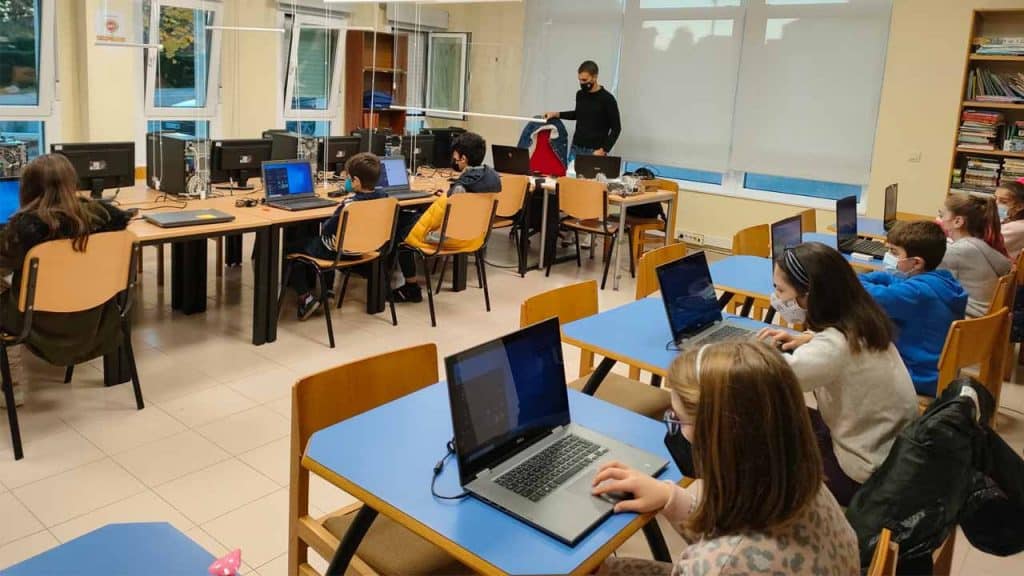 The CEO of the company, Andrés Tarascó, and the mayor of the town of A Coruña, Rafael Sisto, signed the collaboration agreement. The laptops are already being used in several courses on robotics and artificial intelligence
In Teo, the town in A Coruña where Tarlogic Security came into the world in October 2011, the technologists of the future are already being forged. Engineers, physicists, mathematicians… And they are doing so with the support of the collaboration that has arisen between the City Council and the cybersecurity company. Tarlogic recently donated fifteen laptops for courses at the Municipal School of Information Technology.
There, dozens of children and young people aged between 8 and 16 train every day in areas such as robotics and artificial intelligence. These are central disciplines in the world we are living in, and are set to become even more important over the next decade.
The CEO of Tarlogic Security, Andrés Tarascó, and the mayor of Teo, Rafael Sisto, signed the agreement a few days ago and took part in the handing over of the laptops.
These computers are already being used in the computer classroom of the ICTs Municipal School in different courses. Programming and design of video games, robotics and artificial intelligence… Even in one on office automation and typing for teenagers.
Educational value
The Teo Councillor for Culture wanted to highlight the value of an agreement that has made it possible to promote activities of enormous social and educational value. «Thanks to this donation we can use more modern equipment in some of the classes we were offering», she explained.
And she didn't fail to express his gratitude for the company's commitment to a municipality with which he has strong ties. «We would like to thank Tarlogic for equipment that was no longer necessary for them and which we can use to provide a better offer, especially for young people».
The truth is that, despite its unstoppable growth and expansion, Tarlogic Security remains firmly rooted in the municipality where it was founded back in 2011. The company's headquarters in Teo continues to operate alongside the one in Madrid, to which must be added various social actions that are a true reflection of this commitment to its origins.
In addition to the donation of laptops to the City Council, Tarlogic has an agreement with the Teo Food Bank to regularly help families in vulnerable situations.
A firm and sustained commitment that is in line with the company's values and identity.
A decade of sustained growth
Tarlogic Security has become one of the benchmark cybersecurity companies in Europe 10 years after its foundation. With a workforce of over a hundred people, the company has distinguished itself in the market for its high degree of specialization, technical competence, and firm commitment to innovation.
Its advanced services are distributed among the company's different departments: cybersecurity, cyber intelligence, development, innovation, and BlackArrow (offensive security).
Areas that develop the multiple services offered by the company: pentesting, hardening, reverse engineering, threat hunting, network team, web and app audits…
A firm whose evolution has been recognized in recent years from a multitude of fields. One of them, without going any further, is the ranking of the 1,000 European companies with the fastest growth rate.
A select list compiled by the Financial Times and in which Tarlogic has appeared consecutively for the last three years.
Discover our work and cybersecurity services at www.tarlogic.com
In TarlogicTeo and TarlogicMadrid.