10 years of Tarlogic Security, the «cyber» that aims at the sky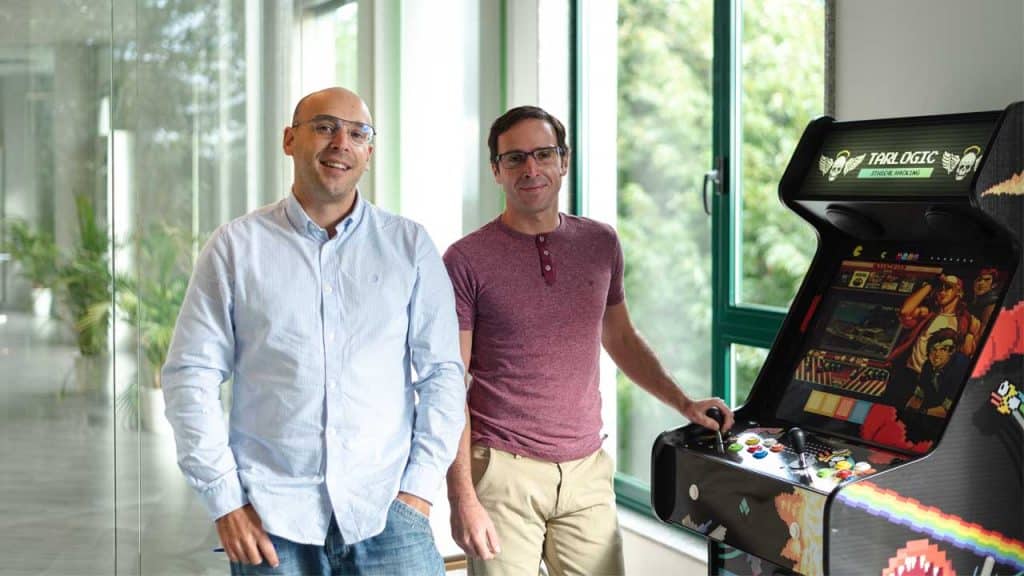 The cybersecurity company founded by the Tarascó brothers was born in September 2011. The commitment to talent and technical solvency accredited in this decade have been the pillars that have supported the dizzying growth of the company
The villager came in proudly and asked for a computer. He wanted to download some photos. He was convinced that that place with no sign on the door and a foosball table at the entrance was an Internet café. It was the year 2011 and in that Spain in crisis, those businesses that would languish over time were still in fashion. The faces of the workers were a poem, between amused and amazed. But in the office, everyone thought it was the grandfather of one of them!
At that time, few people in Teo, a small town on the outskirts of Santiago de Compostela, knew what those guys who liked to play table soccer and tinker with computers did for a living. Hardly anyone had heard of Tarlogic Security.
Today, 10 years later, the company is one of the great realities of the cybersecurity world in Europe. A different, disruptive company that travels at cruising speed in the heat of some unwavering hallmarks.
A genuine DNA that is most likely synthesized in an idea that underlies Tarlogic's entire strategy: the commitment to specialization and people.
And as it's not possible to understand the present or see the future without exploring the past, we propose a walk through the history of the company. From September 2011 to the present day.
A journey through the hands of five of its protagonists: the brothers Andrés and Miguel Tarascó, the creators of the project; Koldo Muñoz, director of operations of the company; Manuel Santamaría, CIO; and Óscar Mallo, cybersecurity advisor of Tarlogic.
All five have seen the company emerge in these 10 years. All five of them constantly recall some of the keys to success: passion, motivation, enthusiasm, talent…
But to understand the true dimension of Tarlogic, it's necessary to go back much further in time. To the restless 1990s. At that time, two brothers from Vedra were doing their thing with an old 486 computer and an old modem that would later give way to an ISDN line.
«We were 14 or 15 years old when we started in the world of hacking -recalls Miguel Tarascó-. Andrés, who is the eldest, and I took turns hacking into other computers. I even repeated a course because I was in front of the computer all day [laughs]».
Years later, they both went to university to study computer engineering and went on to build a reputation in the world of hacking.
Attracting talent
Óscar Mallo remembers it: «When I came to Tarlogic in 2011, I was at university. There we had a group that was really into hacking and we knew Andrés and Miguel very well because they had a very important background in this world. When the opportunity to work with them came up, it was amazing, of course».
In fact, when Óscar joined the firm, Andrés Tarascó, the CEO, was going to hire one of those restless and curious young university students. But he liked what he saw. And he took two of them.
Those were exciting times. And exhausting. Tarlogic had come into the world months before the first hires in little more than a cubicle. A small room of barely four square meters served as a storage room in an annex.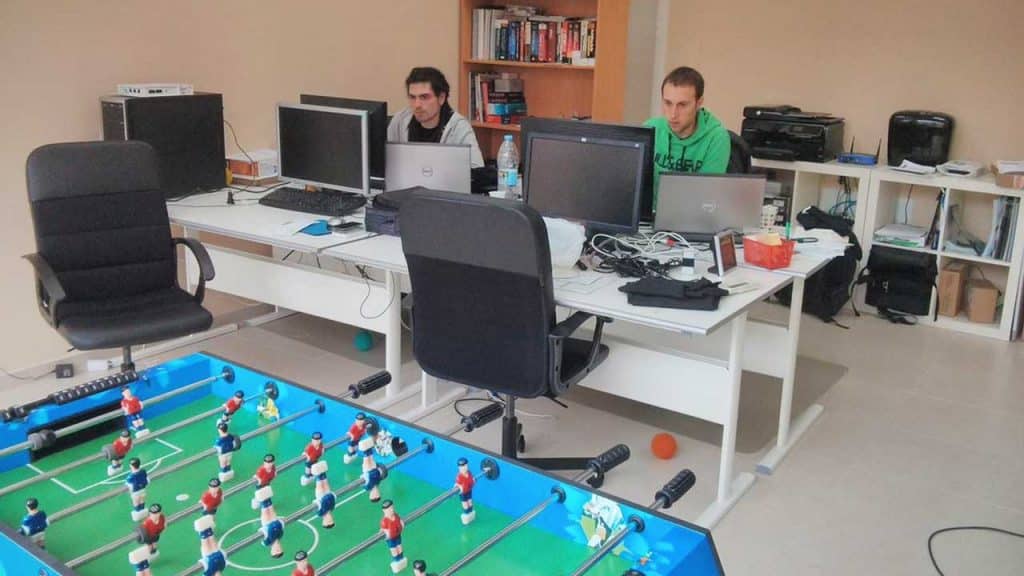 Despite these modest beginnings, the company was growing steadily. A few months later, they rented the neighboring premises. Bigger, somewhat more comfortable. It was then that a foosball table landed in the company.
The trigger for an anecdote that is part of the collective imagination of everyone in the Tarlogic family. «People -says Manuel Santamaría- saw us playing foosball many times and smoking outside the office, and when we moved out of that place sometime later, the rumor in town was that we had closed down. They thought we were smoking and playing games all day long!»
In those early years, Tarlogic was one of Teo's best-kept secrets. An intrigue that gave a lot of play to the devotees of rumors. «In the premises next door -says the company's current CIO- there was a hairdresser who was called by many neighbors to be asked what the hell we were doing».
The answer, for everyone, was the same: IT security consulting and web security services. A commonplace. A synthesis exercise far removed from what was really cooking in that small office.
The illusion, motivation, and desire could overcome everything. Even fatigue. With frenetic work rhythms: «I remember that in the morning I worked at uni, in the afternoon I helped Andrés and at night I stayed up until five in the morning to do my degree final project», reminds Miguel Tarascó.
There was no turning back for Tarlogic. «We wanted to do what we liked best and do it in a company where we would want to work», he continues.
Technical solvency and innovation
From the very beginning, the strategy was always clear. Crystal clear water. Technical solvency, research, innovation, challenges… Tarlogic took on different projects that other companies were unwilling or unable to take on.
«We were highly motivated and passionate -Óscar recalls-. We were eager to play and break things. The profession in those years was not even regulated and we devoured books and tinkered to learn. And we also had people like Miguel and Andrés who were top professionals in this little world».
That way of working, that curiosity and passion connected to knowledge, fitted like a glove with a market in need of different cybersecurity services. Innovative. Disruptive in a way.
And the company exploded. The technical quality of the company's work was a differential element. Word of mouth kept bringing Tarlogic customers. The numbers showed the phenomenon: 2 employees, then 4, 10, 10, 20, 40, 80… Today, the company launches new highly qualified job offers every week and has around 100 employees.
There was a third move, of course. And a fourth. And the opening of the Madrid headquarters… And the future is knocking at the door, incorporating hubs in other national and international locations.
Curiously, a growth that until not so long ago was done behind the backs of a commercial team. It was the technicians, the engineers, who sold the product. Is this a coincidence? Not at all, the quality of the solutions and projects carried out between Teo and Madrid acted as a priceless ambassador.
Tarlogic was still that somewhat exotic and different company. «When I arrived at the company, I wore dreadlocks. And I went to visit a bank that was a client in a suit but with dreadlocks, two hoop earrings, a fanny pack… Of course, they were a little freaked out», Óscar Mallo recalls with a smile.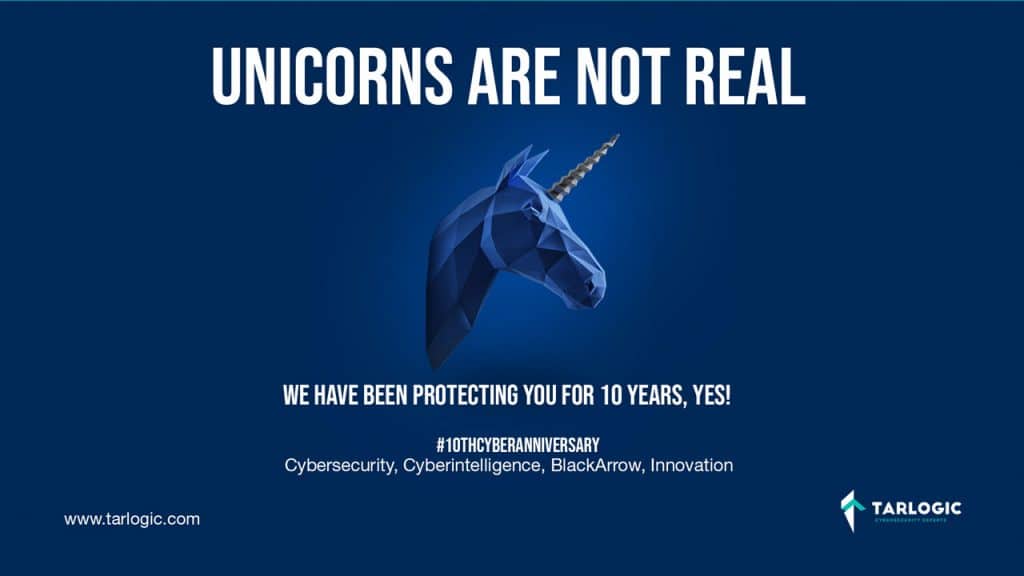 Clients may have been surprised, but they kept calling. The efficiency of the work carried out by the Galician firm was its best letter of introduction. And, in a way, another element that differentiated them from the competition.
Manuel Santamaría believes that it's this quality that probably best explains the dizzying evolution of the company over the past 10 years. «At Tarlogic we never shy away from challenges. We have always wanted to have a technical approach, but as men of action. Not as theorists. We show companies that the problem exists and that they have to deal with it», he insists.
The formula for achieving this status, this solvency, was clear: attracting talent and taking care of people. No one better than Andrés Tarascó to explain it: «From the beginning, we wanted to set up a different company. One that was committed to people and specialization. We wanted it to be an alternative to the people who had to leave Spain because there were no good job offers».
Andrés is grateful to those who have accompanied them on this journey from the beginning and those who landed later. But also for all those who at some point took part in this. «The truth is that I am very grateful for everything that the people who have passed through Tarlogic over the years have given us».
The harmony with his brother Miguel on this point is absolute. Today's Tarlogic is the result of a choral task and an idea that has always been much more than that. Something like a genuine roadmap: «People had to come first. From the very beginning we set out to try to have a company with conditions in which we would like to work».
The Tarlogic culture
Time has proven them right. Over the past 10 years, Tarlogic Security has made a name for itself in the market by taking care of its staff: social benefits, additional vacation days, above-average salaries, and so on.
The pilot program to establish a 4-day working day and the recent implementation of permanent teleworking for the entire workforce are the latest signs of a way of conceiving the business model that goes far beyond traditional standards.
But although the history of Tarlogic Security is full of successes and awards (such as the appearance for 3 consecutive years in the index of companies with the fastest growth rate in Europe by the Financial Times), not everything has been a bed of roses. Each stage, each moment of the company's 10-year history has brought ambitious challenges to the table.
The company's CEO explains in detail:
«At the origin, there was a lot of excitement, but also a lot of fatigue. Endless working days from Monday to Sunday to look for alternative formulas to achieve results with the few resources we had at the beginning», he explains.
These were also times of learning. Especially in the areas of business management in which they lacked so much experience. «A company is an emotional mountain. The people-management part at the beginning was complex because in those years it was not easy to attract talent to a company that hardly anyone knew».
Over the years, Tarlogic's unstoppable growth confronted them with new challenges. It was a moment of vertigo that so many entrepreneurs have experienced.
«That vertigo has been appearing little by little. Perhaps 5 years ago we reached that point where I saw that we have to surround ourselves with partners who help us organize and structure the company so that growth is sustainable, and that the DNA lasts over time».
This is when Koldo Muñoz, Tarlogic's COO, arrives, for example, who day by day helps to maintain this way of understanding talent and innovation. Koldo points out, «there are ways to manage the relationship between the company and the market while protecting human capital. From the beginning I was attracted by the perseverance, and why not, the courage of the Tarasco brothers in drawing lines that at first sight seemed to go against nature. The difficulties are enormous, but the dedication and passion of the entire Tarlogic team make this a reality for many years to come».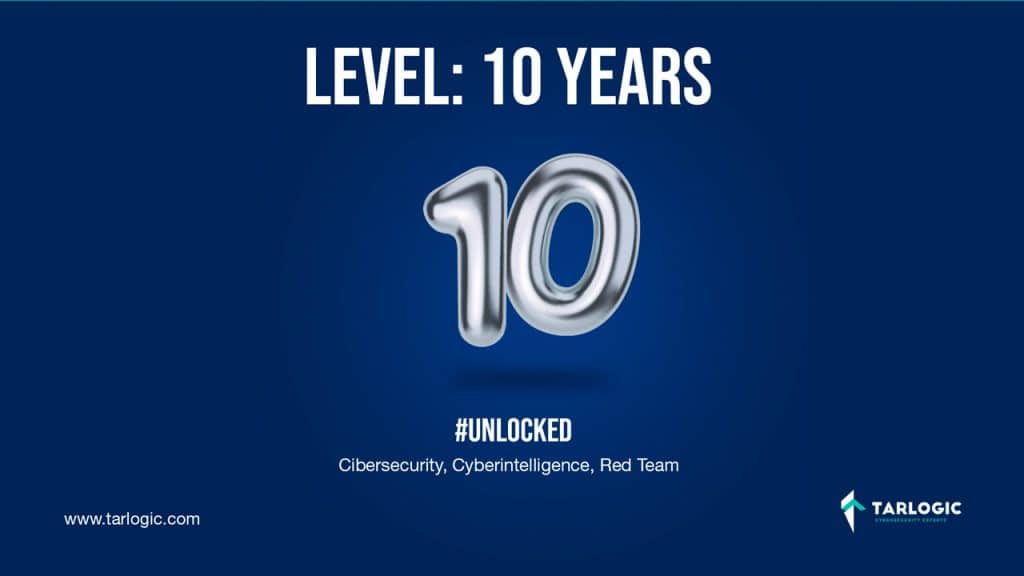 What the Tarasco brothers never had any doubts about was the company profile they wanted to promote. «We are technicians -Miguel emphasizes-. We have always wanted to be recognized for our solvency and efficiency. Never smoke and mirrors».
An extreme in which his brother agrees: «Since our beginnings, we have tackled jobs that in other types of companies were not possible because they were custom-designed and because they require a large amount of gray matter».
An immovable roadmap. A sort of lighthouse to guide the future. And that has made it possible not only to create a business but also to attract talent. «Cybersecurity professionals are stimulated and attracted by the projects we develop», explains Miguel.
There is in this future a vocation to continue a job well done. In its way. With the Tarlogic culture: «Despite having had offers, it has always been important to have control of everything and to create the company we want». Slowly but surely.
The goal? «In two years, I know that we will double in size and have an international presence. In 5 years we may become a reference player in the world of cybersecurity worldwide. It's ambitious, but I think we will have a team of between 300-350 people», says the company's CEO.
A major challenge. True, but who could doubt it?
After all, just 10 years ago, people thought Tarlogic was a cybercafé…
Discover our work and cybersecurity services at www.tarlogic.com
In TarlogicTeo and TarlogicMadrid.