Cyber Intelligence – Investigation and incident response
Intelligence refers to the presentation of news with the aim of taking a decision or changing a decision which has been already taken.
Inteligencia es presentar noticias capaces de hacer tomar una decisión o modificar una tomada con anterioridad.
As time passes by, intelligence is a discipline increasingly important in organizations and companies. Different information and news obtained about any company's topic of interest, regardless the industry, could mean that a company could anticipate facts which may happen in the future having a direct impact on the business continuity.
Thanks to the application of the intelligence cycle, different phases and activities may be performed in order to achieve the intended purpose, that is: any company decision maker may be aware of every piece of news and information of special importance regarding company operations.
Direction: any company or organization information needs are established.

Collection: different data collection procedures are carried out relating to any data, news or information of interest, using all the available sources.

Processing: analysis and development of the information obtained are carried out.

Broadcasting: already developed information is delivered to company decision makers.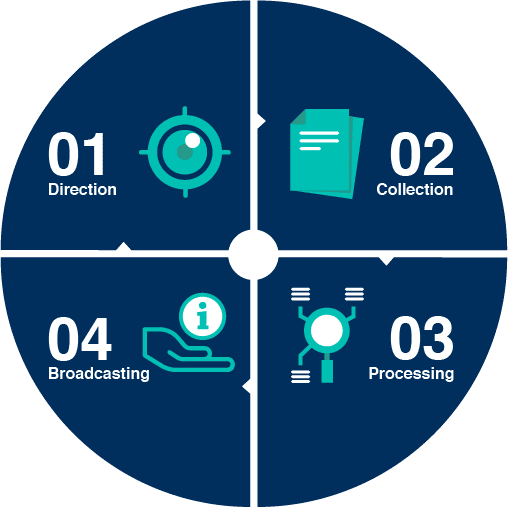 Tarlogic Security approach regarding intelligence is proactivity. So that all the information provided by our team is aimed at anticipating events through the development of different scenarios and the corresponding index collection. Our team comprises highly-qualified and experienced professionals in technological investigations in both the public and private sector.
1
Areas of interest in Cyber Intelligence
Tarlogic Security offers support to companies in the following areas of interest, where cyber intelligence and intelligence is the keystone in decision making.
| SOURCES | DESCRIPTION |
| --- | --- |
| Basic business intelligence | Information collection and news development about any company specific intelligence needs. For example: events, organizations, places or people of special interest. |
| Investigation and fight against fraud | Helping companies clearing up facts related to fraud or any other fact of interest. |
| | Helping companies providing information about risks and threats in new technologies field. |
| Economical-Competitive Intelligence | Providing useful information to companies enabling decision making. |
| Technical analysis | Providing technical information about any kind of software, devices firmware and malware. |
| | Providing solutions on any event related to IT security taking place in any company or organization. |
| | Training in collection, analysis and development for public and private companies and organizations. |
Collection capacities
In order to carry out efficiently all the previous described tasks, Tarlogic Security counts on broad information collection capacities and news compilation in several technological resources. Besides, tools have also been developed enabling promptness in the correct performance of the aforementioned tasks.
| SOURCES | DESCRIPTION |
| --- | --- |
| WEBINT – Web Intelligence | Capacity of collecting, compiling and analyzing obtained data through the WEB. |
| SIGINT – Signals Intelligence | Tarlogic Security has developed different technologies enabling the possibility of creating intelligence through the study of wireless signals. |
| SOCMINT – Social Media Intelligence | Information collection through data compilation in social networks. |
| | Information collection through the study of complex malware trials which could have affected any company or organization. This also refers to the study of the infrastructure where it is based. |
| | Information collection through IT equipment, mobile terminals or any other technological device analysis. |
| | Tarlogic Security has developed information compilation technologies applicable to particular intelligence needs of any company or organization. |
Tarlogic Security is constantly developing new information compilation technologies from different sources. Therefore, they bet for a forward-looking initiative on R&D in cyber security and cyber intelligence as a differentiating factor.